Saturday 28th May (2022): 12.30pm
25th Jubilee Luncheon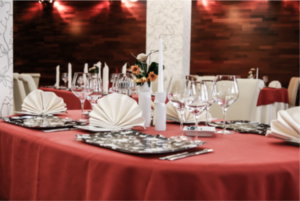 The District Grand Master, RWB Jean Verbist, is delighted that you will be joining him to celebrate the District's 25th Jubilee at a special luncheon in the Masonic Centre.                                                                                            To assist the catering would you kindly indicate your menu preferences  by clicking on the appropriate icon (below the menu) . If you have a special dietary requirement please give us details in the message box … Thank you!
Menu
Entrée
Aperitif with appetizers
Main Course
Cod in Ostend style or Veal fillet with shallots
Dessert 
Dame Blanche
Coffee or Tea
Served with wine, water, or softdrink
Dining fee: €40.00
Please make payment in advance by bank transfer (BE60 2300 4768 0570, BIC GEBABEBB) mentioning "Jubilee 28-05-2022".
Jubilee Luncheon menu selections